I'm pushing the envelope when it comes to thinking about Christmas cards this year, but for good reason. I'd love to be able to order Christmas cards in advance, but alas, I'm waiting for this new bundle of joy in utereo to make his appearance so he doesn't feel left out of the family card. My hope is to order Christmas cards soon after he arrives from Shutterfly because they're offering a free promotion (50 free cards) for bloggers to help spread the word about their holiday Christmas Card Collection (Interested in the deal?  Click Here)! Yippity! They're super cute! And I love a good deal!
I've been perusing their selection of cards trying to decide which one I'll use for my Christmas card after Boehmbino #2 arrives. It's a toss up!
This card is probably my favorite.  However, I'm debating if I'll have the time to write inside each card with a brand new baby attached at the… Well, let's just say that I'm just not that together.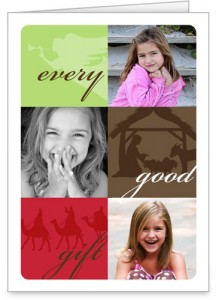 So, I think I'll go with a flat card, which I love for several reasons…the design, the wording, the layout and the cardstock. Probably one of these: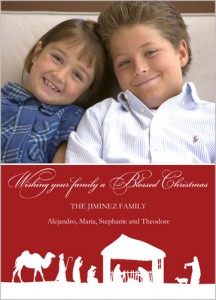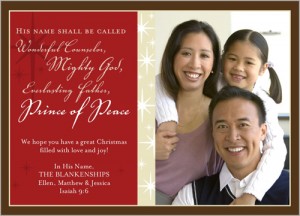 I've used Shutterfly in the past for Pierson's baby announcement as well as Christmas Cards, too! and they are always great quality. If I were rich and organized, I'd plan to buy some gift tags. But seeing how I've yet to even THINK about Christmas shopping, that's not going to happen.
Thanks for a great selection and the opportunity for some free Christmas cards, Shutterfly! And here's to hoping that I get the cards sent out in time…Though, if I am realistic with myself, I may just have to scratch out Merry Christmas and use a Sharpie to instead say, "Happy St. Patrick's Day!" Because let's face it…sometimes, that's how I roll.